0 comment
Saturday, April 19, 2014
|
admin
It's finally done! I can see the floor! I am so in love with our new shelves and all the storage space!! Oh man, I can hardly contain myself.
A place for all of the clothes and extra spots for books...
Stuffed animals...
And of course you can't forget the trucks! I feel like I can finally just relax a little bit. Ahhhh
Something you might try out yourself? I highly recommend it. Oh! And make sure you watch out for us in the next couple of days. I see an apron giveaway in our future and I'm sure there is someone out there who wants it... right...right?! :D
Labels: My Projects
0 comment
Friday, April 18, 2014
|
admin
Hello hello! I'm Jax from Aly & Ash and I'm so excited to be posting here today! But you'll definitely have to head over to my blog Aly & Ash to see Sammy's amazing tutorial! But while I have your attention here, let's talk about me shall we! :) I'm a STHM of an adorable little boy who growing and changing so fast these days it's incredible! The picture below is kinda old, Asher is now 10 months, crawling (backwards) and really enjoying the sound of his own voice! We just spent a month back in my home country Canada and although we had a blast I'm excited to be back in Phoenix and back to regular routine etc!So on with today's project: Let's cling to these last days of summer shall we! I am way into leggings and tunics this summer. But I hate the rope belts that always come attached to the tunics. (No offense if you love them!) I always pull them off and cut off the loops that once held them and belt with a "real" belt or leave without. I knew there was something I could do with said rope belts so I held onto them and then thought, Hey! Why don't I make a headband! It's crazy easy and quick so let's get to it!Tutorial:Nautical Headband
Step One: Grad some rope belts or braid together some yarn etc.
Step Two: Roll to measure how big you want your circles and tie two knots in the braid to cut between.
Step Three: Repeat until you have your desired lengths and quantity of rope.
Step Four: Roll circle while gluing with hot glue as you go.
Step Five: Tuck the end around the back and secure with hot glue. Once dry you can cut off the knot.
Step Six: Hot glue buttons or fabric covered brads into center and glue onto headband.
Easy Peasy! Now you have a nautical summer headband!
Well that's it for today! If you haven't been over to Aly & Ash before make sure to come check out my other projects! Here's a little preview:
Thanks for having me & have a great week!
Labels: Blog Swappin
So I was looking for a fun project to do today and thought that I would make a flower for my hair. I have never made one before so I was just winging it but it turned out pretty cute so here it is! First step is to cut out 5 petals of roughly this shape. They don't need to be exact and you can make them whatever size you want. Mine were about 2X1"
Now you want to stiffen the fabric. There are a couple of ways you can do this. There is a fabric stiffener in a bottle that you can buy, but if you're like me and you haven't gotten your taxes back yet, you can use elmer's glue (mix equal parts glue and water). I went for elmer's. Now put it in a bowl and dip the petals in one at a time.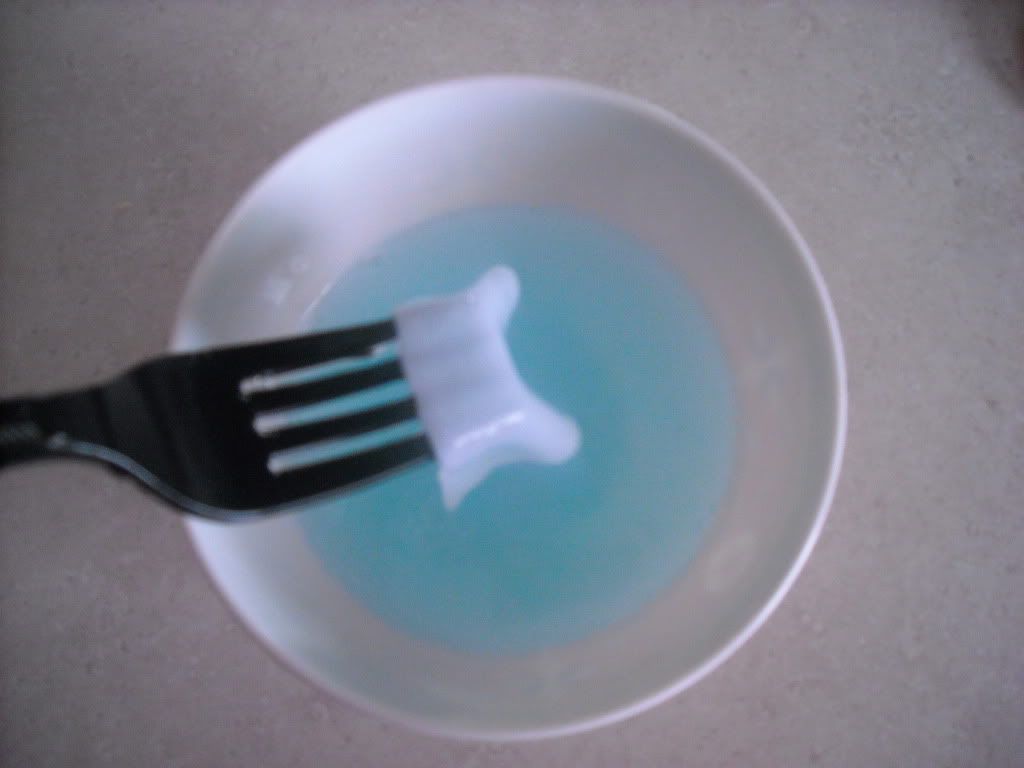 You want to make sure that you wring out all of the excess liquid from the fabric
and lay them flat to dry. Feel free to use a blow dryer to speed things up.
Now take a needle and thread and sew back and forth along the bottom of the petal and pull tightly together.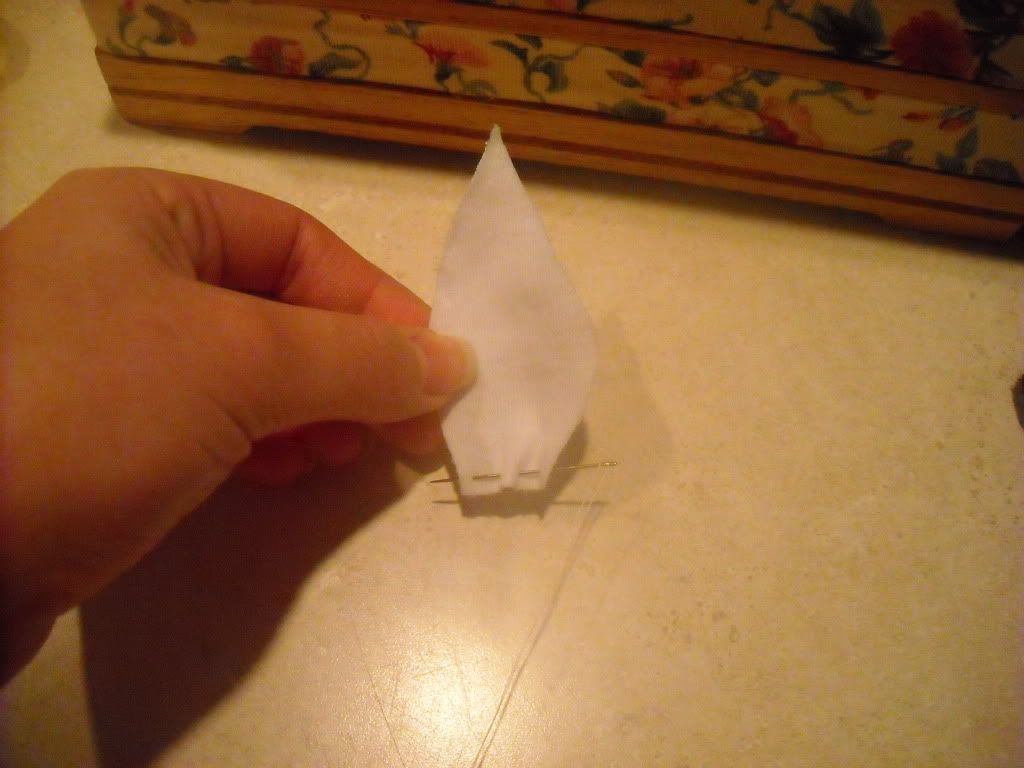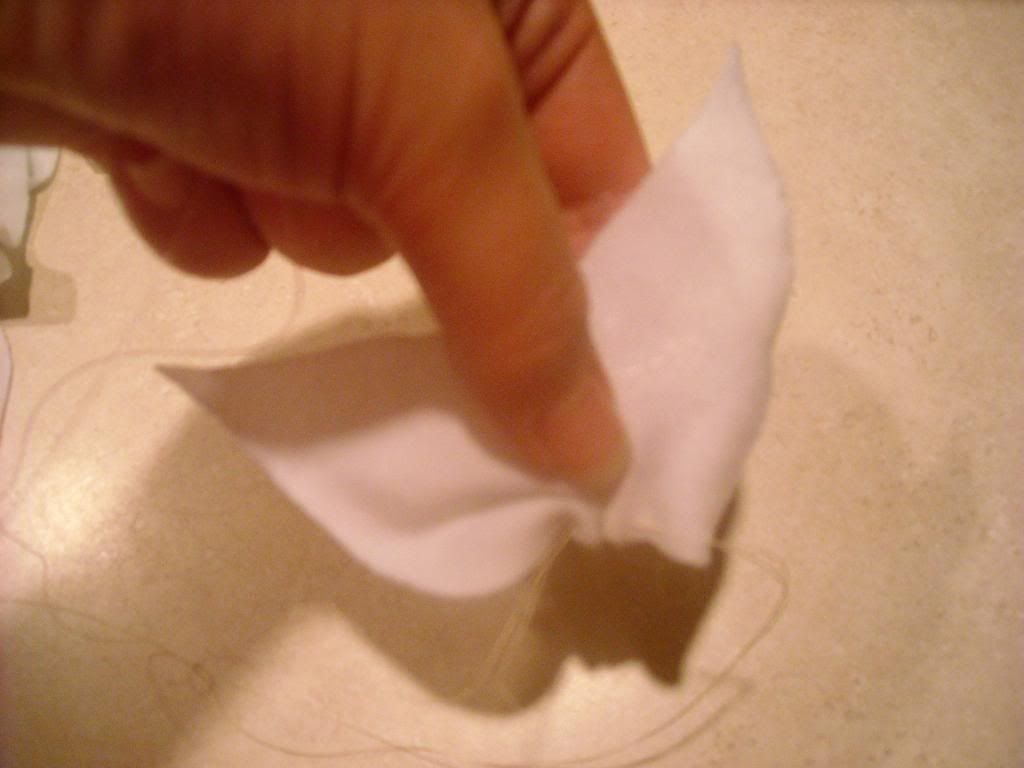 String all petals together and then sew back into the first petal to make the flower. Use needle and thread to sew in any pieces that need tucked in.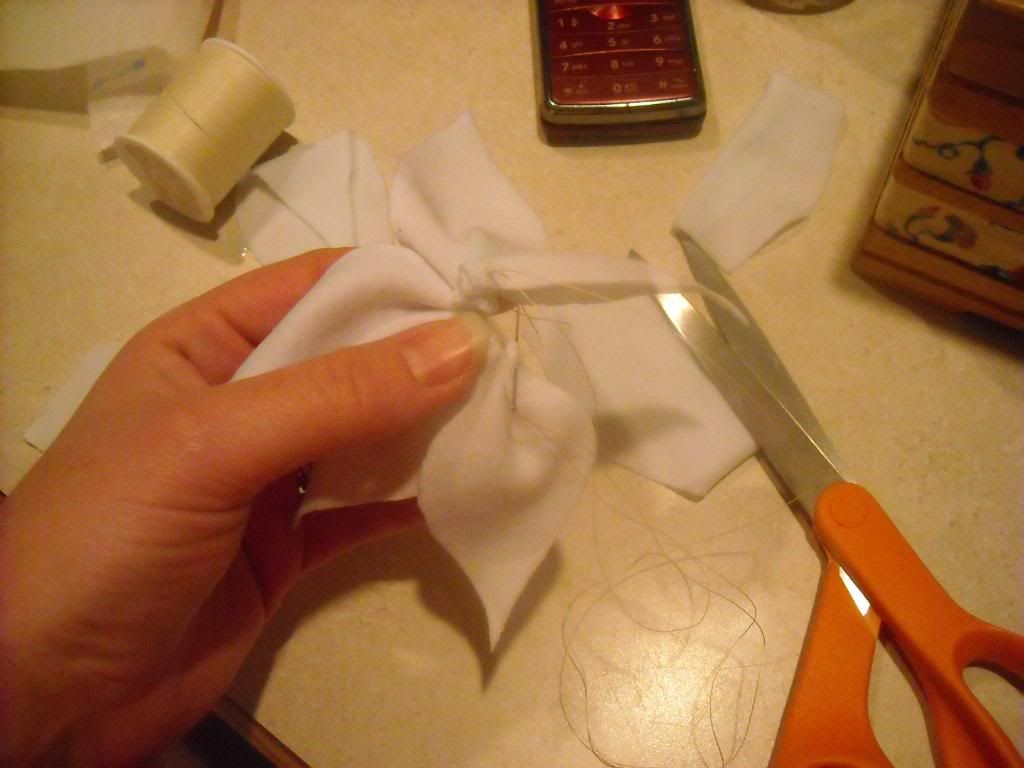 You can add on more petals if you want another flower from behind.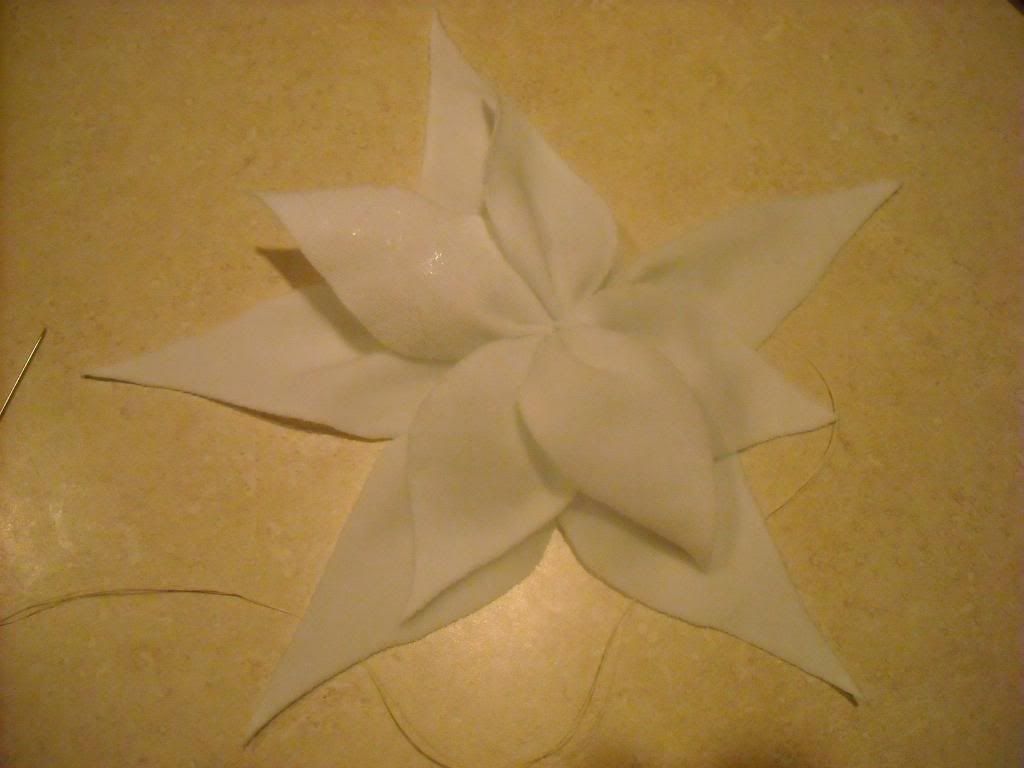 Now attach to a bobby pin or clip or ponytail or whatever else you like to put in your hair.Use any pattern of fabric you want to make them the style you want. I painted mine with watered down paint.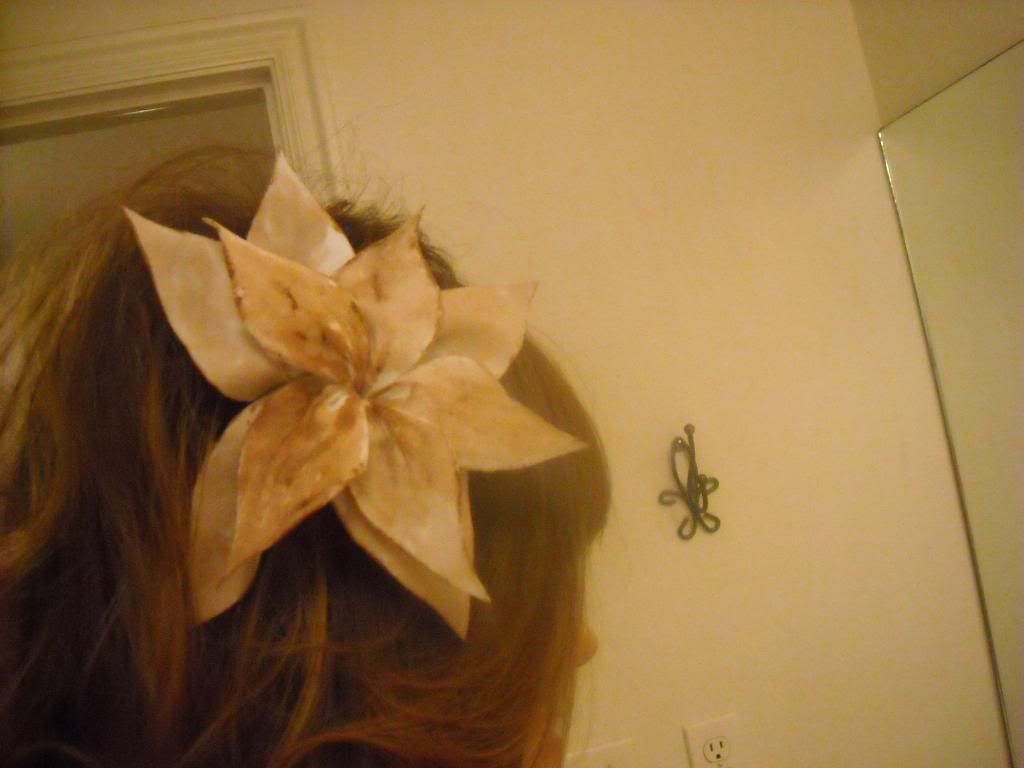 Pretty pretty :D
Labels: Hair Things
0 comment
Thursday, April 17, 2014
|
admin
Hello everyone! Sorry this is not a crafting post, I just felt like I wanted to give a little shout out to all of our peeps out there since we have all but disappeared lately. And, unfortunately, there has not really been much crafting going on here at all! Bummer, I know. So what have I been up to? This.
Yes that is my couch. I'd like to say that it usually looks better than that, but in all honesty, it is usually much worse. I mean, only one to managed to make it's way into the picture! I lived there for about 5 days, starting last Wednesday. That is the day that the kidney infection officially set in. Have you ever had one? They suck sooooo bad! I went into the doc on Thursday and was put on antibiotics, and pain meds. They helped a lot with the pain and all the other junk that goes along with a kidney infection (UTI, blood in the urine, yadda yadda yadda) but they didn't help with the puking that decided to set in. I puked up every single thing that I was able to get down, which wasn't much. 2 pieces of toast on Thursday, 4 saltines and a cup of milk on Friday, and 4 more saltines on Saturday. By the time Saturday night came around I found myself at the urgent care on IV's. I was back in on Sunday morning for more and finally by Monday morning I was feeling better! Wahoo! Well for a minute. Urgent care wanted me back on Monday morning and thought it would be better to be safe then sorry and decided to give me a shot of the antibiotics they had been giving me through the IV's. So then I ended up here.
Why you might ask? Because they give you that antibiotic shot in your butt. SOOOO painful!!!! I can just imagine the coversation the doctor had who invented giving shots in the butt.DOC: Hey nurse, I'm bored so I have this great idea.NURSE: Alright doc, what is it.DOC: It's like this, when you go give that guy his antibiotic shot, you should do it in his butt!NURSE: Ok doc, but why?DOC: Because that way, we can laugh every time he has to sit funny, and have a good laugh when we get to watch him walk out like a goon!NURSE: Good one, doc, good one.Yeah, I'm pretty sure that they had that conversation. So because of that funny doctor, I have reparked myself in my living room, only this time I'm on the recliner, sitting on a heating pad, doing a whole lot of nothing at all. Good times. So here's to feeling better, and possibly starting a brotherhood of all of those who have had a shot in the butt, because until you've had one, it is impossible to understand.
Labels: Pretty Little Things
I want to share a fun trick I learned this week--the tassel-less quilt tie! I used this tutorial from the Apron Girls blog. The little x's were perfect for my table runner project!
Labels: For Home
0 comment
Wednesday, April 16, 2014
|
admin
This is a fun little banner that I made for my baby's 1st birthday.It was really fun and can be used over and over again.
To make this I used a 2" circle punch and used 4 circles glued together to make the balls. Then I strung each one individually onto a piece of ribbon and tied the ribbons together.
Then I got some chipboard letters, mod podged some fun paper onto them, punched holes into the top and strung them together with ribbon to, attaching the ball strands onto each end and between the words. Easy, cute, reusable. My kind of project :D
Find all of the linkys here
Labels: Party